Villa in Bali: 3 Property Recommendations for Your Stay
Welcome to the lush paradise of Bali, where stunning landscapes, vibrant cultures, and unrivaled luxury await you. Several options of villa in Bali are available during your stay in Bali. Whether you are looking for an ocean view, lush forest, or peaceful rice fields, villas in Bali have it all.
But the decision about what accommodation to book can be very overwhelming. Besides the popular beach resorts, the island also offers a unique stay experience for those who love to stay in natural surroundings.
Then Grün Resorts is your choice for a great stay, responding to those seeking peace and appreciation for nature. The concept of the Grün Resorts is based on a sustainable approach to the environment. Our villas are sophisticated destinations interacting with nature.
Grün Resorts offers a variety of locations in Bali that cater to different interests and preferences. Whether for family holidays, day trips, or a moment to relax, you will find your personal memorable experience in our accommodation. Each location offers a unique and memorable vacation experience our guests love, a sanctuary that provides the freedom to feel your senses and truly slow down.
Canggu villas with private pool
Our exclusive 4 private villas property in Grün Canggu features outdoor living spaces with a spacious tropical outdoor feel. This includes a private swimming pool with a direct view of the rice fields and garden. Imagine immersing yourself in the clear water of your own oasis. Surrounded by lush greenery and basking in the warm tropical sun, you will experience a sense of serenity like never before.
Facilities
Besides a swimming pool, an outdoor grill area with a dining table is also provided in our Grün Canggu properties. You can enjoy a BBQ dinner with your +1 during your stay. Each unit has its own dedicated outdoor living space, that interacts with the interior space to form one indoor-outdoor living unit, aiming to create a unique, minimalist yet very comfortable and sophisticated experience close to nature.
Treehouse Structure
The upper floor room offers an enclosed living experience with a balcony for stunning views around. With our minimalist, yet sophisticated treehouse, we set ourselves the challenge to space the units in a way that each guest can take in the full atmosphere, looking out to nature, while having their own space and privacy in a compact size.
Also Read: 4 Top Places to Stay in Bali
The upper floor room is a combined living and bedroom area, where you find a double bed and a sofa. The room has a rustic-modern decor, allowing you to calm down and connect with nature. Enjoy the lush greenery and wildlife outside your window while taking some well-deserved me-time. The open studio design also offers excellent services, including a cozy bed and a well-equipped own bathroom, and a kitchen with a refrigerator, ensuring your comfort, completed by a spacious balcony out in front for precious views and a perfect place to relax close to nature.
In addition, Canggu is a place for guests to enjoy the local restaurants and beaches. Visit the famous surf spots on Canggu Beach or one of the several beach clubs. Also, check another unit in Canggu surrounded by a garden here.
Ubud villas with 360 scenery view
Nestled amidst lush greenery and surrounded by stunning natural beauty, Grün Ubud offers an immersive experience that seamlessly blends modern comforts with traditional Balinese culture. Built with sustainable materials, the treehouse's architecture beautifully complements its surroundings, creating a serene ambiance that encourages guests to connect with nature.

Conveniently located just a stone's throw away from the center of Ubud, Grün Ubud offers easy access to a myriad of attractions, including the iconic Campuhan Ridge Walk, Ubud Palace, and Swing Heaven. Immerse yourself in the local culture with a visit to the nearby rice terrace, temples, and traditional villages, or simply quiet in the tranquil ambiance of the treehouse and soak up the beauty of your surroundings.
Uluwatu villas with family-friendly units
We believe that unforgettable vacations are built on the foundation of comfort. These spacious and thoughtfully appointed villas offer a harmonious blend of luxury and practicality providing ample space for families to stay.
Grün Resorts Uluwatu is by far the largest of Grün's properties with 34 rooms and takes a leading role not only in terms of size but also with the natural surroundings and experiences it offers, as well as its all-encompassing sustainable approach. Our helpful staff will guide your booking process for a family vacation. Able to host up to 4 people, Studio N Family offers features of 2 bedrooms, a bathroom, a kitchenette, and a lounge area. Another family unit, Treehouse Villa with 2 bedrooms, will be available soon.
Also Read: Get Special Rate during Grün Resorts Uluwatu Soft Launch
Featuring breathtaking sunsets and sunrise at the top of Uluwatu hills, Grün Resorts Uluwatu is the perfect place to settle into a sense of ease and embrace the natural environment and beauty.
Facilities
The room service includes excellent facilities to support our guests with any needs. The resort in Uluwatu provides a unique experience at The Octagon. The Octagon is a tropical gastro-food restaurant with touches of local cuisine. Serving breakfast, lunch, and dinner as well as afternoon snacks following healthy drinks and an in-house collection of cocktails. The Octagon offers too room service. Make your dining experience memorable during your stay.
Nevertheless, the upcoming ocean-view infinity pool, coworking area, and wellness center will be available this late 2023.
What makes Grün become a special villa in Bali?
The Way of Grün
Grün Resorts is a sanctuary that offers a chance to escape the constraints of everyday life and reconnect with nature, providing the freedom to slow down and truly relax. The treehouses are all different with their own characteristics and styles. Our innovative resorts are focused on sustainability according to the "Grün" way. The resort's buildings are made of certified and reclaimed wood and feature rainwater harvesting and recycled water filtration systems to minimize water usage. Preserving nature is not just a responsibility but a privilege.

With our innovative practices, we invite you to experience the joy of preserving and protecting the beauty of nature more than impacting it. We actively reduce our carbon footprint by sourcing energy exclusively from renewable sources and incorporating sustainable practices such as utilizing recycled tetrapods for walls and repurposing timber for various purposes.
We build sophisticated sanctuaries in nature, creating breathing spaces for memorable experiences, while our resorts enhance nature more than impact it.
Best Villas in Bali for Couples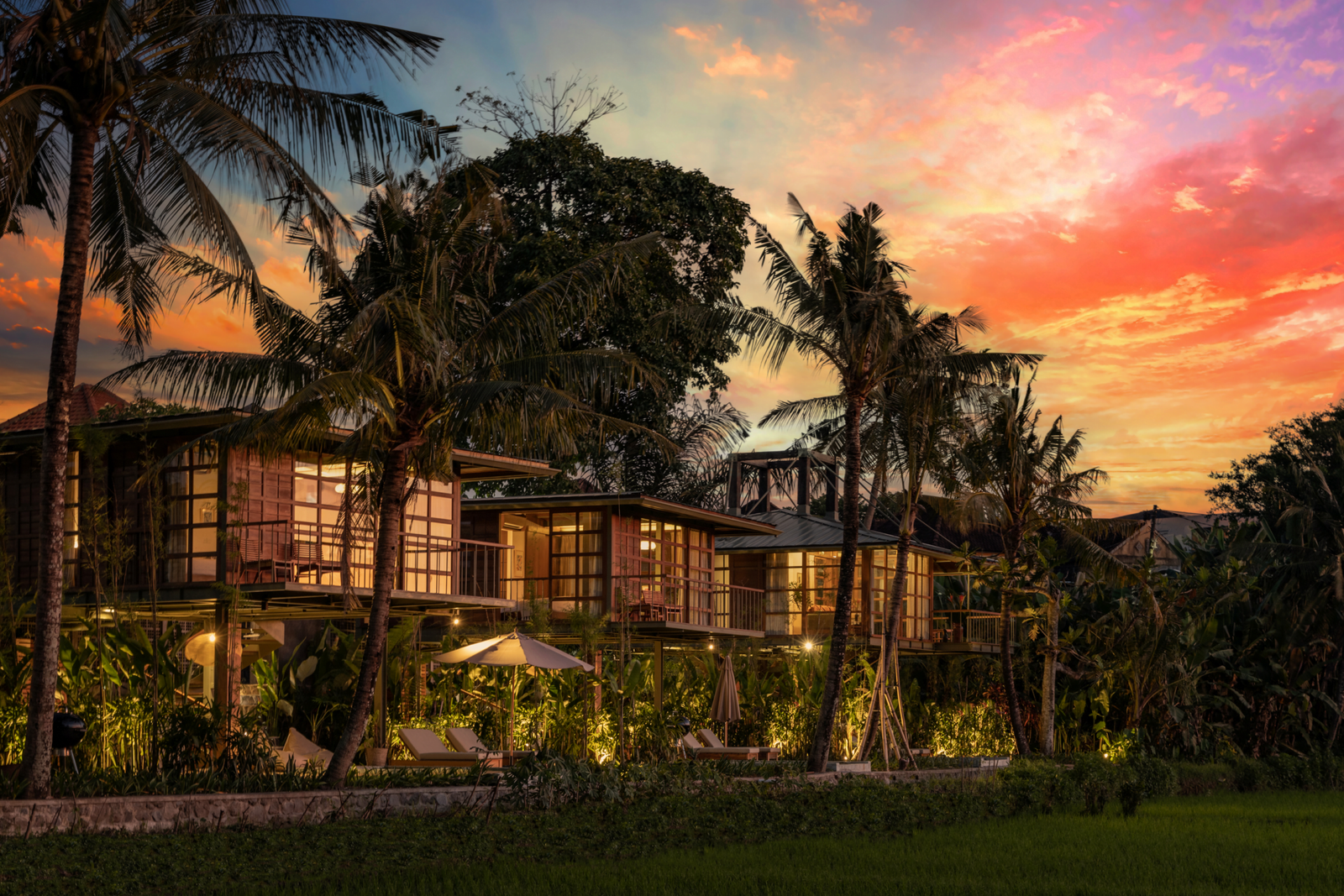 On honeymoon or just a romantic holiday with your loved one? Check in our beautiful treehouse hotel, where you will find extraordinary hospitality for two. An unforgettable great overnight stay in private Bali luxury villas in breathing space for memorable experiences outside the constraints of everyday life. Our friendly staff will give you the best service during your stay in one of our holiday villas. Available location: Canggu, Ubud, Uluwatu.
Let's get your Bali villa booking started for mid-2023
When it comes to finding the perfect villa in Bali, the options are abundant and diverse. Grün Resorts stands out by providing a distinctive elevated experience at their Canggu, Ubud, and Uluwatu properties. Our primary objective is straightforward: to offer hassle-free and swift bookings for your villa in Bali.
Have you decided in which location are you going to stay? Use coupon "DIRECT20" to get the best prices for direct website booking. No need to use any travel agent to book online as we will find the perfect villa in Bali for the holidays.