Unique Experience in a Treehouse Villa
Are you looking for a unique tree house experience? Introducing the treehouse villa, a luxurious and spacious treehouse that is perfect for families or those seeking a unique vacation home/stay. As the largest tree house we offer, the treehouse villas are perfect for families or those seeking a larger and more comfortable villa living experience. With its innovative design and comfortable amenities, these accommodations are sure to impress.
What you can expect when you stay in one of our treehouse villas? Here's the preview!
The treehouse villas experience
This unit is located in Grün Resorts Uluwatu which houses 34 villa units. Guests can visit 5 treehouse villas on our accommodation property. Our treehouse villas are the largest of our property models, offering the same peaceful and serene atmosphere to our guests.
Upon entering the treehouse, you will feel secluded and private, surrounded by treetops and the sounds of nature. Our treehouse villas are known for their peaceful and adventurous ambiance, as well as their cozy and homey feel during your night.
What the treehouse villa has to offer
Treehouse villa is a 2-story villa that consists of 2 bedrooms with queen-sized beds and 2 bathrooms. Climb up to the first floor, you will see the master bedroom features a bathroom, living room, dining room, and kitchenette. In front of the bedroom, you can enjoy the panoramic view from large ceiling windows as well as a sizable balcony.
Let's continue to the second floor. The floor plan features a compact bedroom and bathroom with an extra balcony on the outside. Amenities are also provided.
Family-friendly Tree House Villas
The Treehouse is perfect for bigger group-sized residents. As it is more common to have only 1 bedroom in a treehouse, the villa has room for 2 bedrooms making it perfect for a family of 4. By using the option of a second level the opportunity to have a total of 2 queen size beds become available.
Also Read: Recommended Treehouse Hotels in Bali
With the addition of the second level, the tree house is "the one" for 4 adults or a family with 2 kids. As the largest treehouse unit we have so far, these accommodations are suitable for small families or groups of friends.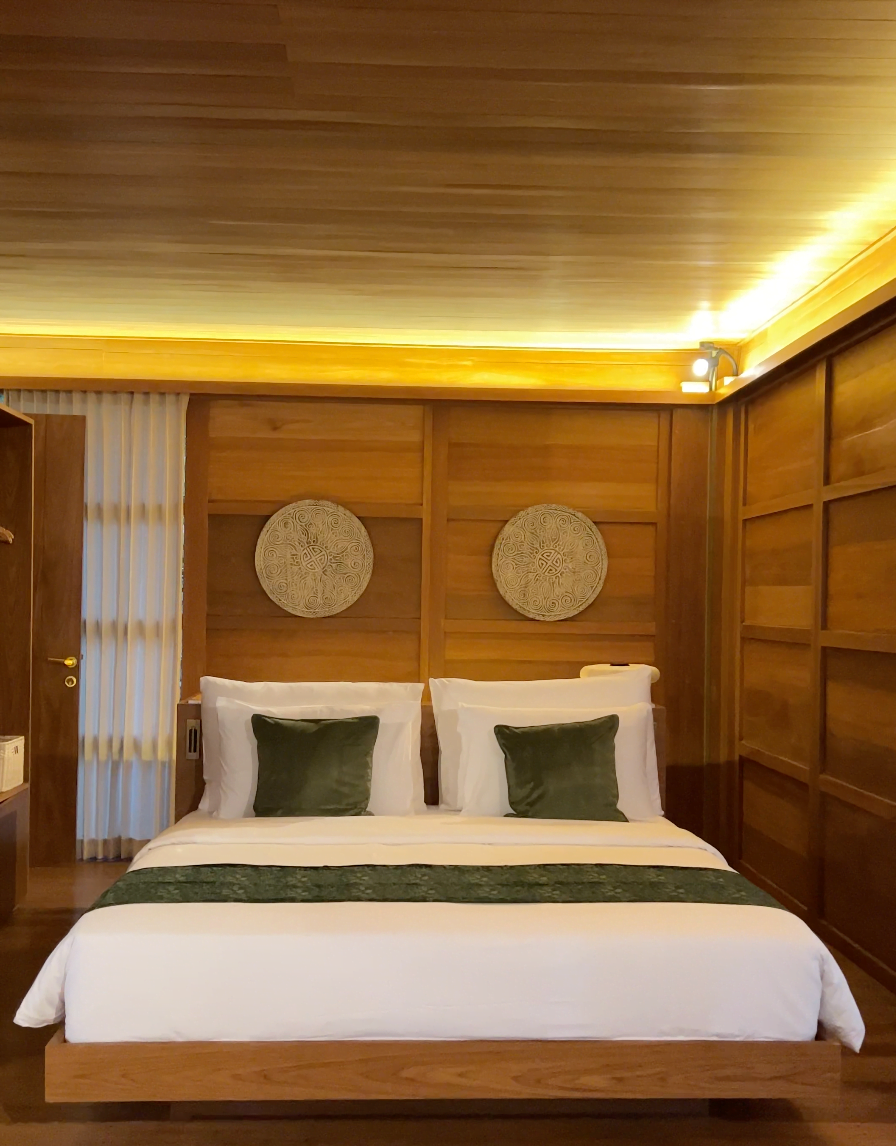 Sizeable Living Room
What we offer is more spacious than in the other treehouses, with the other treehouses having a more compact living area, the treehouse villa creates the opportunity for more room. Therefore there are features such as a larger table, a larger couch, and an overall increase in living space.
Outdoor Area
Whether you want to enjoy the day or night together, our first-floor and second-floor balcony is the perfect spot. With an extra sofa and chair, you can just sit and relax. Since this property is located at the top of Uluwatu hills, you can see the sunset from our ocean-view balcony. It creates the perfect indoor and outdoor living experience.
Sizable Bathroom
Besides the bed, you can find a private bathroom. With the increase in size, it becomes easier to access, creating the option to have a separate lavatory room. Sidestepping the problem of having a shower and toilet in one and the same bathroom. This feature is also available in the upper rooms.
Amenities
All rooms in Grün Resorts Uluwatu will provide all basic amenities such as liquid soap, shampoo, conditioner, toothbrush and paste, towels, complimentary drinks, sandals, and bathrobe. As we strive for sustainability, we collaborate with natural body care, Embun – which uses natural ingredients for its toiletries.
Resort facilities
After overseeing how cozy the treehouse is, let's take a look at the Grün Resorts Uluwatu area. Grün is not only known as a villa or hotel but also offer various experience during your stay.
The Octagon Restaurants
The Octagon is a tropical gastro-food restaurant with touches of local cuisine. Serving breakfast, lunch, and dinner as well as afternoon snacks following healthy drinks and an in-house collection of cocktails.
The Octagon offers too room service. Make the dining experience memorable for our guests. Immerse yourself in a gastronomic journey like no other, as we present a fusion of flavors that combine the best of tropical cuisine with local culinary traditions.
Infinity Swimming Pool
The swimming pool is located near the restaurants. In this area, you will find 2 infinity pools facing the seas. This area is kids-friendly as it has 1 pool for kids and 1 for adults. In front of the pools, there are several day beds to enjoy.
Upcoming Bar and Lounge
Currently, we are in the progress to construct a bar and lounge called La Cima. This section is located near the swimming pool. There will be a dining experience, a selection of liquors, and food and beverages.
Where to find the Treehouse Villas now?
Grun Uluwatu will have everything you need. Creating a big park for a unique experience focussed on luxury treehouse living. Our treehouses are located in Pecatu, Uluwatu, Bali. Around 30 minutes away by car from Ngurah Rai International Airport. Directions are available on Google Maps.
We also offer pick-up transportation upon request, from the airport to our resorts and vice versa. Besides, there is an online transportation where you can book your trip. Or you can find your own transportation to get here. Parking spots are available for cars and motorbikes.
Also Read: Looking for Villa Property in Canggu and Ubud? Read This
If you are interested in staying in one of the treehouses visit the Grün website to book your stay online. There you can find all the information surrounding availability, locations, and price per night. Our rooms start from $80 USD per night.
How to Reserve?
We would be happy to welcome you here! We are excited to announce that we are a soft launch of the resort to guests already.
Get 10% off using the code "DIRECT10". Valid for website booking only.