About Grün by Stilt Studios
Grün is green
in German. It is the color most commonly associated with nature.
Here in Grün, we have a mission to reduce environmental impacts as a way to introduce you to our elevated journey. We believe that we can present a change of perspective on different levels with the integration of our core philosophy–by creating an ode to nature.
Grün is inspired by Stilt Studios' core philosophy: to tread lightly on Earth.
We aimed to create an elevated stay experience by combining high hospitality standards and upscale architectural designs while still making it accessible to everyone.
Thus, the idea for Grün was born. We offer unique, prefabricated living spaces for you to immerse in.
Our philosophy is to blend buildings into surroundings to celebrate Mother Nature. Integrating art, architecture, and everything in between to the way we find inspirations and how we bring them into fruition.
We want to bring a sense of home to you. We're not looking to settle on just giving you a "vacation", we want you to go on an adventure with us to discover the boundaries beyond.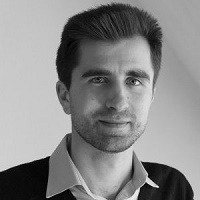 Florian Holm is the co-founder and CEO of Stilt Studios. Flo is a seasoned entrepreneur and CEO with extensive experience in operating in South-East Asia, particularly Indonesia.
Prior to co-founding Stilt Studios, Florian Holm was the co-CEO of Lazada Indonesia and the CMO of Lazada Philippines. He previously worked at Lazada Thailand, heading the Marketplace team.
Flo started his career in consulting with the Boston Consulting Group and gained additional experience in the non-profit sector with Endeavor Argentina and GIZ Health Program in Kenya.  
 Today he is also a startup mentor, Angel Investor, and an e-commerce advisor.